Term: 1 June 1 - June 7
Speaker: Rene Shlaepfer
Rene Schlaepfer is senior pastor of Twin Lakes Church in Aptos, California and the author of six books. Born in San Jose, California to Swiss immigrant parents, Rene grew up with dual citizenship and briefly lived in Switzerland before settling on the West Coast. There he worked for many years in broadcasting, primarily as an air personality on contemporary music radio stations. While in broadcasting, Rene earned a BA in Radio/TV/Film from San Jose State and an MA Theology from Western Seminary. Since then, he has served as a pastor in San Diego, South Lake Tahoe, and Santa Cruz. Rene and his wife Laurie have three children they adore and are anxious to welcome their first grandchild this summer. Beside their love of church ministry, Rene and Laurie also advocate together for their favorite causes: local food banks and an orphanage in India.
Term: 2 June 8 - June 14
Speaker: Tome Dawson
Tome Dawson is the pastor at Life.Church South Tulsa and the Tulsa Area Pastor under the leadership of Pastor Craig Groeschel. In his role as the Tulsa Area Pastor, Tome gives support and oversight to 7 Life.Church locations in the Tulsa metro area reaching over 22,000 people every weekend. He joined the Life.Church staff team in 2006. His wife, Nicole, is a health coach and author of Allergylicious.com, a food blog about sweet treats and allergy-friendly recipes. Tome and Nicole have a passion to equip and inspire people to live their lives on purpose, being healthy spiritually and physically, while becoming fully devoted followers of Christ. They have been married since 2002 and have three children, Zachary, Cayden, and Xander.
Term 3: June 15-21
Stuart Makinson
Stuart currently serves as Director of Married Groups at North Point Community Church in Alpharetta, Georgia. He leads a team that oversees over 300 small groups of married couples. He and his team are focused primarily on developing married couples to lead small groups. He has received two master's degrees- an MBA from Milligan College and a Master's in Christian Leadership from Dallas Theological Seminary. Stuart has been married to Leslie (a former Kitchikomo at K-West!!) for 8 years and they have three children (Nelson -4, Molly -2, Emmy – 3 months). Aside from serving couples at NPCC, Stuart loves to be with Leslie and their children, he's an Ironman triathlete, and he eats a ton of ice cream…like a TON!
Term 4: June 22 - 28
Ted Cunningham
Ted Cunningham is the founding pastor of Woodland Hills Family Church. He enjoys being married to his wife of over 20 years, Amy. They live in Branson, MO with their two children, Corynn and Carson. He is the author of The Power of Home, Fun Loving You, Trophy Child, and Young and In Love and coauthor of four books with Dr. Gary Smalley including The Language of Sex and From Anger to Intimacy. He is a regular guest on Focus on the Family, Life Today, and Moody Radio. He is a graduate of Liberty University and Dallas Theological Seminary.
Term 5: June 29 - July 5
Renaut VanDerReit
Renaut has been in full time ministry for the past 20 years. He is a husband, father, visionary leader, and pastor. Renaut's most important role is as husband to his wife, Brooke, and as father to his 8 children, ranging in age from 10 - 19. In 2012 four of his children were adopted from Ethiopia. Renaut is founding pastor of Mosaic Church in Oakland, Florida, a suburb of Orlando. Mosaic was planted in 2002 and is one of the fastest growing churches in Orlando with more than 2500 attending gatherings at two campuses each week, including a Latino gathering. In addition to leading Mosaic, Renaut and Brooke are the founders and owners of multiple business ventures including Axum Coffee, a specialty coffee shop chain, Axum Roastery, House Blend Cafe and The Axum Market Cafe, a healthy living experience. All of their business ventures give 100% of net profits away towards social justice issues around the globe. Renaut inspires and challenges people to live lives informed by the Gospel of Jesus in every arena. He is passionate about marriage and family life, communicating the privilege and responsibility we have to nurture those key relationships. He is well known for his unique communications style which puts people at ease, while engaging them in sound biblical teaching.
Term 6: July 6 - July 12
Clay Scroggins
I'm Clay Scroggins. In my day job, I serve as the Lead Pastor of North Point Community Church, one of the six Atlanta-area campuses of North Point Ministries led by Andy Stanley. I met my wife, Jenny, at Dallas Theological Seminary and together, we have spent the majority of our adult life working with families in a church context. While Jenny was at Texas A&M, she volunteered with high school students at Grace Bible Church and served at a summer camp for kids and students every summer. I went to Georgia Tech and studied engineering, but my favorite part of college was serving in student ministry at North Point. We love summer camp and believe deeply in what God can do through camp! We live in Forsyth County, Georgia, with our five kids.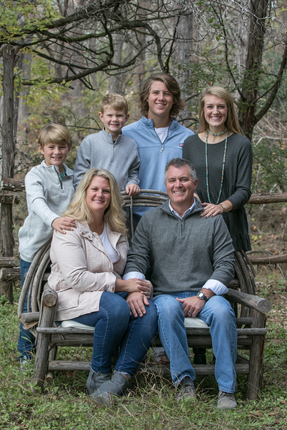 Term 7: July 13 - July 19
Shawn Stoever
Shawn received his doctoral degree in Counseling Psychology from the University of North Texas where he specialized in marriage and family therapy. He currently serves as the Stewardship Consultant for Chick-fil-a, as well as working as the Community Groups Pastor at Cypress Creek Church. Previously, Shawn has had opportunities as the Senior Director for the WinShape Foundation and the Director of Training for the Smalley Relationship Center. Shawn is passionate about his relationship with God and eager to share how you can experience fulfillment and success in life. Shawn enjoys motivating people through speaking and teaching at corporate events, as well as through appearances on radio and television broadcasts. He is co-author of the books, "The Wholehearted Marriage" and "5 Days to a New Marriage". Whatever the setting, Shawn's humor, enthusiasm, and wisdom help him connect with his audience. Despite extensive schooling, Shawn really did not know anything about relationships until he met his wife Christina. They have five amazing children, Taylor, Cade, Avery (with the Lord), Cody, and Colt.
Term 8: July 20 - 26
Scott Kedersha
Scott & Kristen Kedersha have been a part of Watermark Community Church in Dallas, TX for the past 17 years. Over those years, Scott has served on staff in the marriage ministry at Watermark where he has helped prepare nearlyweds, establish newlyweds, and enrich and restore all marriages. Scott & Kristen teach and help lead couples all over the marriage/relationship lifespan. Their passion is to help couples raise, not cheapen, the value of marriage. Scott's first book, Ready or Knot?, (with Baker Books), a guide for premarried couples, comes out in February, 2019. He writes about marriage and following Jesus at ScottKedersha.com. The Kedershas met in Atlanta in 1997 where Scott was one of Kristen's graduate students in physical therapy. They have been married since September of 2001 and are the parents of four boys named Duncan, Drew, Carson & Lincoln. 2019 will be their fourth summer at K-Kauai!
Term 9: July 27 - August 2
Jonathan "JP" Pokluda
Jonathan "JP" Pokluda is the Dallas Campus Pastor of Watermark Community Church and leader of The Porch, an influential Young Adult gathering of more than 3,500 in Dallas, TX. At The Porch thousands of young adults come hear the gospel, get equipped and are unleashed for Kingdom purposes. JP came to understand the grace of the Gospel in his early twenties after being involved in different denominational churches his entire life. This ignited a desire in him to reach the twenties and thirties for Christ. JP's passion is to share the Gospel with anyone who will listen and equip others to do the same. He also feels called to challenge Christians to multiply their faith by discipling others. JP loves his wife of 13 years, Monica and together they disciple their children, Presley, Finley and Weston.
Term 10: August 3 - August
Josh Patterson
Josh Patterson serves as a Lead Pastor at The Village Church located in Flower Mound, TX. The church has witnessed a tremendous growth since December 2002; growing from 160 to averaging over 11,000 adults across five campuses during weekend worship services. He serves on the elder board and has oversight of all ministries across the church's five campuses in Flower Mound, Southlake, Fort Worth, Plano and Dallas. Josh received his undergrad from Texas A&M, his Masters in Theology from Dallas Theological Seminary and his Doctorate in Executive Leadership from Southern Baptist Theological Seminary. Josh is also a co-author of the book "Creature of the Word" along with Matt Chandler and Eric Geiger. His greatest joy outside of Jesus is his family. Josh and his wife, Natalie, are the proud parents of Lily, Luke, Liv, and Lucy.